The Holidays are Here!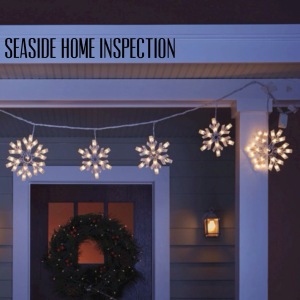 The Holiday Season is Upon Us…
When decorating your home it's important to remember to check those old light display wires before flipping the switch and turning them on. They may be frayed and could be an electrical fire hazard…the same goes for the indoor Christmas tree.  Always check the light strands for signs of wear-and-tear from being stored all year.
Hang outdoor lights so that you keep the electrical connectors off the ground and away from metal rain gutters.  You can buy some insulated tape or plastic clips to keep the lights in place.
If you buy new electrical decorations, light strings or extension cords, be sure to look for the certification mark of an accredited certification organization such as CSA International, UL, or ELT to ensure that the products comply with applicable standards for safety and performance.
If you are a real Christmas tree lover, make sure to keep it watered since dry trees can catch fire much easier.  When the New Year arrives check with your local town on how and where to dispose of the tree.
Happy Holidays and wishes for a wonderful New Year from Seaside Home Inspection!
Helpful information for Homeowners – Licensed Cape Cod Home Inspector – Scott Hunt – SEASIDE HOME INSPECTION offering home inspections on Cape Cod, Martha's Vineyard, and Southeastern Massachusetts